Project One - Gateway Solo 2
Computer Specs:
500 Mhz Celeron Processor
256 Megs PC100 SDRAM
20 Gigabyte Seagate Hard Disk
Integrated 10/100 Nic Card and Modem
4 USB Ports
Integrated Intel 810 Graphics & Sound
15" Flat Panel Display
The Objective:
I am going to take this unit and change the case color to something more, well "extremely appealing" :-)
To Start:

1st - Lets take it apart
2nd - Review the unit
3rd - Get the right "paint" actually vinyl die!
4th - Paint it!
Color Choices:

Using Plasi-Kote vinyl die-
Black & Smoke Silver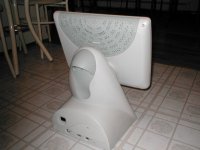 The Back Side
Want to see more?
Head on over to the photos page
Send an email